Our game concessions and employees always leave the crowd, customers and clients smiling every time.
Brandon Concessions LLC is dedicated to providing our customers with a wonderful experience when playing the variety of game concessions that we have to offer. Our goal is that every customer leaves the fair with a toy or even cart full of merchandise. As innovators in the amusement gaming industry we also pride ourselves in bringing you new and improved gaming experiences each year. Giving you a variety of excitement and improving your gaming skills as well. Here is a list of some of our most known game concession favorites that we have to offer. All of our game concessions are routinely maintenance, ensuring that we are providing our clients with the upmost top quality gaming entertainment and experience.
You will instantly recognize the utmost importance of professionalism within our company. Brandon Concessions goes above and beyond the expectations of our guests and fair partners to provide an experience that truly sets us apart.
Brandon Concessions LLC has an array of carnival games. Barry & Elizabeth, owners of Brandon Concessions LLC, believe in offering their customers the best in family entertainment. With Brandon Concessions you'll find fun and exciting games ranging from Water Races to Balloon Dart, Bank a Ball to Duck Pond, Buoy Pitch to Ring A Duck, Basketball to Machine Guns. There's really something for everyone. Test your skill. Win a prize. But most of all have fun.
Games Of Skill – A game of skill is a game where the outcome is determined mainly by mental or physical skill, rather than by chance. A game of skill generally has an element of chance, but skill plays a greater role in determining the outcome. One benefit of games of skill is that they're a means of exploring ones own capabilities. Games encourage the player to look at, understand, and experience things. They teach people lessons about themselves and possibly the world, and allow such insights to be passed on to others
Winner Every Time – These games draw the attention mainly to adults with smaller children. Children of a young age can play these game and feel the accomplishment of winning there very own prize with little help from adults. Most prize every time game still have the oportunity to win a large prize
Multiplayer Games – Multiplayer games—the "Watergun" game is one example—The size of the prize may change with the number of players participating. Another popular game is called The Roll A Ball. The object of the game is to be the first race car or horse to make it across the track, to the winning line. You roll a ball up a lane. They're slots for the ball to drop down into. The higher the slot the faster your racecar goes.
1
Machine Gun Alley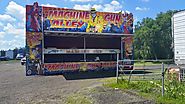 This is our new Machine Gun Alley, with a brand new high quality premium 3m vinyl wrap and custom printed skirt. 8 air powered fully automatic machine guns. Premium L.E.D. chameleon puck marquee lighting and L.E.D. awning chase lights.
2
Prize Time
Completely refurbished in the winter of 2015, the Prize Time is a must see beauty. Brand new high quality premium 3m vinyl wrap. All new chameleon L.E.D. marquee lighting and completely lit with over 24 bright day light fluorescents!
3
Hoop Shot Basketball
One in and you win choice! Same great fun with a new look. Brandon Concessions has removed our back wall chrome grid that held merchandise and replaced it with a high quality 3m vinyl wrap of the present and past NBA All-Stars and Legends. The reason we removed the grid that held merchandise was because employees are unable to apprehend merchandise hung on the top story grid while we are open. Even though we had signs explaining that top grid merchandise may not be in stock and is display only. We would sometimes, almost rarely receive negative feedback. With our aggressive attitude and always wanting to receive 100% positive feedback we decided to make a change, This is our solution!
4
Buoy Pitch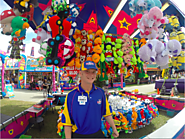 Our Buoy Pitch is a popular game at every event we go. Glass bowl float around a pond, sitting on top of floating buoy pads. Toss ping pong balls into the pond and watch them bounce around as the bowls float by. If your ball lands in a bowl you win!
5
Roll A Ball Derby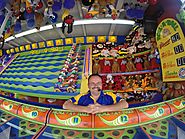 Simple game play for all ages. It is the most customizable and electronically advanced derby race game available! Players roll their ball into one of three speed zones activating their toy to move toward the finish line. Flip-down counters bring the action closer to the crowd. Advanced electronics control toy movement to eliminate "dead-spots" associated with other drive systems. Dollar for dollar the most advanced, dependable and proftiable derby race anywhere in the world.
6
Machine Gun Alley
Our second machine gun alley, this machine guns has the same footage as our newest Machine Gun Alley and runs 8 machine guns as well. However, this machine guns is equipped with a office for Barry & Elizabeth Brandon.